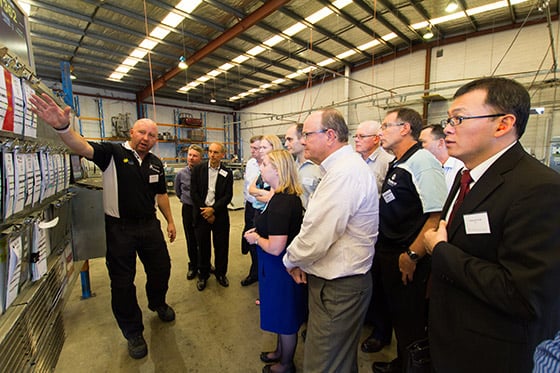 Lean management is a leadership approach that supports continuous improvement through collaborative problem solving. Rather than leading from the top down, Lean managers strive to actively engage their teams in the improvement process in order to promote personal and organizational success.

The basic components of Lean management are:
Standard work (SW).

Tasks are broken into a series of steps that are followed by all team members at all times. Standard work is continuously adjusted to decrease waste and add value until a state of perfection is reached.

Visual controls.

Team members have an opportunity to track their own performance in real time and make adjustments.

Daily accountability process.

The group comes together to review progress, refine processes and chart next steps.
Daily accountability throughout the organization, especially at the leadership levels, is the key to sustained transformation. Here are four reasons why accountability is so important to Lean management.
Accountability Builds Trust
Perhaps the most important result of accountability is trust, which is essential in any relationship. Being accountable to something means that you're willing to make commitments and be responsible for your own actions. This promotes trust between you and the people around you. When you allow yourself to be accountable to this trust, you're effectively telling people that you're going to admit it and make amends when the trust is broken. In effect, you're emphasizing how important and committed you are to the strategy.
Accountability Improves Performance
Accountability eliminates the time and effort you spend on distracting activities and other unproductive behavior. Research shows that some people have the tendency to engage in ineffective behavior. Without accountability, you may only catch these behaviors when mistakes and errors have already been made and your organization has already suffered the loss. By building a culture of accountability on the onset, you rid your organization of ineffective behavior, put the right people on the right jobs, and send the message that you're serious about excellent work.
Accountability Promotes Ownership
When you make people accountable for their actions, you're effectively teaching them to value their work. Through positive feedback and corrective actions, they learn that their behavior and actions have an impact on the team. They're not just floating members without clear roles to play – they're important to your organization. When people know that they're valued and important, they're more driven to work hard. They learn to have a sense of ownership in what they do.
Accountability Inspires Confidence
When done right, accountability can increase your team members' skills and confidence. Don't mistake accountability for controlling behavior. The key is to provide the right support – give constructive feedback, improve on your members' suggestions, give them freedom to decide, and challenge them to think of better solutions as a team. When people know that you're actually listening and concerned about their performance, they're more likely to step up and do their best.
Given these reasons, it's important that you build a culture of accountability from the start. Remember that accountability is building a culture of trust and not fear. Your goal is not to punish and look for errors and mistakes. Instead, you seek to open up multiple feedback mechanisms, fill in gaps, improve on solutions, reward productive behavior, and remove unproductive ones. As a leader, you yourself should hold yourself to the highest level of accountability.