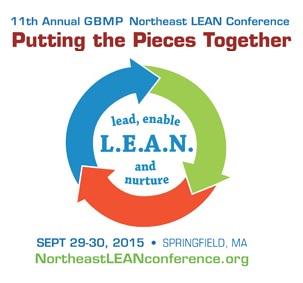 Last week I spent a couple days at The 11th Annual Northeast Shingo Prize Conference in Springfield, MA. The wonderful conference hosted by GBMP was an exhilarating learning experience for me so I thought I would share some of those nuggets with you.
The first presentation was from my friend Dan Markovitz about his new book Building a Fit Organization. Everyone knows that in order to reach optimum levels of health, you have to exercise―and that you have to keep at it, day after day after day. No big secret here. It's the same with process improvement, and, specifically, lean processes.
Key principles include of improving your organization along the fitness analogy:
1)
Committing to Fitness/ Improvement
a.
The coach/leader needs to how to drive out fear
b.
Spirit – i.e. Paul Akers 2 second lean, Improve yourself every day
2)
Don't focus on weight loss (waste) focus on strength/power/ fitness (value creation).
a.
Don't focus on cost cutting
3)
Think Horizontal not vertical (training for a specific event) (focus on end goal)
a.
Think of the end result, what does your customer need
b.
The value stream map is the tool that gets you there
4)
The Right way to do things (Standard work)
a.
There is a right way to train for the event, don't get caught up in the chaos.
b.
Focus on what is important and not in adminastrivity of business.
5)
Real Time feedback (Visual Management)
a.
Fitness facilities have mirrors everywhere
b.
How can you see ahead or behind and when do you react
a.
The coach/trainer is always there.
b.
Coach must be involved, know what the team is doing
c.
It is vitally important for management to be present.
Another presentation on developing cultural habits for success by Tim Crocker was particularly interesting. Frequently well-executed process improvement rollouts are unsuccessful. Often this result is due to required skills and habits missing from the culture – not faults in the methodology of the implementation. The specific cultural habits are coaching, communication, service orientation, personal accountability, results orientation, and simplification.
o
Core competency, meeting structures, relationships & emotional intelligence
o
Determine cultural norms for communication – face to face, phones before email, meetings with agendas, silence cell phone, never reply all
o
Use a Tier meeting system – daily to monthly at specific levels of business – map out your structure
o
Routine (1on1), mentoring, focus on habits and behaviors not results, foster a mindset that craves feedback, use worksheet
o
Understand the change denial curve,
o
Servant leadership, doing more than required, a belief that you can make a difference, do better for the team.
o
Share power and empower your team, be goals focused, people development, not results focused
·
Personal Accountability
o
Defined responsibilities, clear expectations, and clear ownership
o
Practice and recognize habits, develop shared mental models, reward the right habits
o
Habit or practice to use, visualize information
Changing your organizations culture and implementing a major project concurrently makes the difficult nearly impossible. Developing these habits in advance of the roll out, or any major effort, increases the chance of success. The habits can be developed and codified through drafting community of practice guide that sets methods and expectations. There are specific techniques, training, and workshops to improve and align each of these foundational cultural habits. These are all skills that can be learned and developed at all levels of the organization.
The last presentation of the first day was from Ariens President and CEO Dan Ariens. Dan shared his experience and lean journey over the last 15 years leading the company's Lean transformation. He believes Lean initiatives are the heart of American business and the core of its future. The Ariens Company opened it's doors to Thedacare to start the Lean Healthcare revolution.
A Lean journey at its best represents disciplined chaos and those who work at implementing long-term change understand this contradiction well. But Dan Ariens credits this chaos for providing an opportunity for everyone in an organization to become a Lean leader.
The 7 behaviors of a Lean Leader from Ariens perspective:
1)
Servant Leaders – are you masters of people or a person of masters
d.
Respect the individual
e.
Encourage intellectual curiosity
a.
Leaders must be comfortable in environment of relentless change
3)
Disciplined Chaos – You must be disciplined in the chaos
a.
Be very disciplined about how things are dealt with in company, rules
a.
Lots of pressure on a leader – you have to face the anxiety, be fearless
a.
Leadership commitment – need to have great leadership to transform
a.
When you start to feel good about yourself you lose passion – you lose steam
b.
Continuous drive for improvement, it's a journey, that's what is important
c.
"Constant pursuit for perfection but along the way knowing you never reach it but finding success along the way" – Vince Lombardi.
Stay tuned tomorrow I'll share some highlights from the second day of the conference.